First time I use
Olympus OMD E-M5 MarkIII
at extreme difficult lights, and conditions in a dance performance. In my bag sitting OM-D E-M1 MarkII because I afraid if disappoint me? If batteries dead during the show, if,, if if. .. Two and more hours with OM-D E-M5 MarkIII, I used two batteries! Extreme fast focusing system as OM-D E-M1 X, 5 axis stabilisation have a lot of fan to freeze movement under speed 1/40 .
One note, OM-D E-M5 MarkIII will be never be OM-D E-M1 MarkII,, freeze movement of legs or hands on edge , OM-D E-M5 MarkIII will be fast 20 raw files but not as E-M1 MarkII.
OM-D E-M5 MarkII is the missing link between E-M1 MarkII and OM-D E-M1 X , a powerful midrange camera. .OM-D E-M5 MarkIII is a camera to takes photos light from heaviest gear, silent and efficiency as second camera in MY BAG bag, or the main camera for travel, portrait, street photography. I feel together with OM-D E-M5 MarkIII will be creative at every conditions, "invisible". Yes I believe,, it is a very best camera for semi professionals
DANCE WITH MY OWN SHADOW - MANOS HADJIDAKIS, STAVROS NIARCHOS HALL, November 2019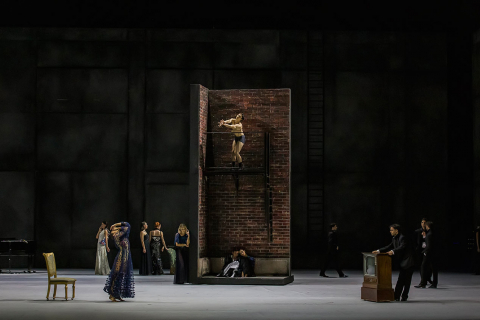 Production sponsor GNO Ballet Sponsor The first production of the Greek National Opera Ballet for 2019/20 signals one of the greatest challenges for Konstantinos Rigos. The GNO Ballet director realizes one of his greatest artistic dreams and choreographs four major works of Manos Hadjidakis –...

www.nationalopera.gr
OM-D E-M5 MarkIII & M. Zuiko 40-150mm f/2.8 PRO | ISO 3200 | f/2.8 | S 1/400
OM-D E-M5 MarkIII & M. Zuiko 40-150mm f/2.8 PRO | ISO 3200 | f/2.8 | S 1/250
OM-D E-M5 MarkIII & M. Zuiko 40-150mm f/2.8 PRO | ISO 3200 | f/2.8 | S 1/250
OM-D E-M5 MarkIII & M. Zuiko 40-150mm f/2.8 PRO | ISO 3200 | f/2.8 | S 1/250
OM-D E-M5 MarkIII & M. Zuiko 40-150mm f/2.8 PRO | ISO 3200 | f/2.8 | S 1/250
OM-D E-M5 MarkIII & M. Zuiko 40-150mm f/2.8 PRO | ISO 3200 | f/2.8 | S 1/250